The Meadows Ranch Eating Disorder Treatment for Girls and Women
The Meadows Ranch eating disorder treatment has a successful history of helping women and girls find a life of recovery.
Recovery is possible; it's happening every day at The Meadows Ranch. We offer inpatient and residential eating disorder treatment for women and girls struggling with anorexia, bulimia, and related issues. Also, we provide residential eating disorder treatment at the ranch for those with binge eating disorder, obesity, and compulsive overeating.
Conditions We Treat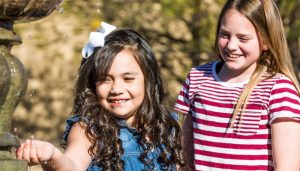 We treat a variety of conditions with the objective of addressing the root trauma at the heart of each patient's struggle. The Meadows Ranch treats patients experiencing one or a combination of the following conditions:
Purging Disorder
Pathological Exercise
Help for Eating Disorders at The Meadows Ranch
We define treatment success as:
Restoration of relationships with family and friends
Returning to a productive, healthy, and meaningful life
Reduction of eating disorder symptoms and behaviors
Renewed interest in school or work
Through our bio-psycho-social-spiritual eating disorder treatment approach and clinical excellence, patients find the strength to confront their problems, learn the tools and skills to overcome their disorder, then enter recovery. Based on feedback from patients, families, and professionals, the vast majority of our patients remain committed to a life of health, balance, and purpose.
Eating Disorder Treatment That Works
We have treated eating disorders for more than 20 years. We know recovery from an eating disorder is possible. It's happening every day in The Meadows Ranch eating disorder treatment.
For additional information about the treatment of eating disorders, please call to speak to an Intake Coordinator at 866-390-5100 or complete the form below and we will contact you with the information you need.
A Legacy of Hope and Recovery
The Meadows Ranch is connected to The Meadows, where for 40 years, The Meadows Model has been unparalleled in leading patients to successful outcomes for recovery from trauma, addiction, depression, anxiety, and more. Whether you're entering treatment for the first time or find yourself in relapse, call us today to start your recovery.